Your guide to navigating and achieving success in the music industry.
MOBOLISE Movers: Sounds of Success in partnership with The Orchard
– Join us for a virtual event with The Orchard – a leader in music distribution and artist & label services – that's all about navigating and achieving success in the music industry.
Meet Our Distinguished Speakers
Jasmine Bodkin: Senior Director of Label Management at The Orchard UK With years of expertise and a pulse on the ever-changing music landscape, Jasmine will share invaluable insights on how to steer your career towards greatness.
Cookie Pryce: Director, Label Management – and once an artist herself Cookie's unique journey from artist to industry maven will provide you with a perspective like no other. Learn how to harmonise creativity and strategy for a symphony of success.
Akua Boateng: Talent Acquisition Manager Akua has an ear for talent like no other. Discover the secrets to standing out and making your mark in a crowded industry, directly from the expert who knows.
What to expect:
This event will hit all the right notes and guide you through the fast-paced rhythm of the industry:
Dynamic Discussions: Engage in dynamic panel discussions where our speakers will share their personal stories, tips, and strategies for climbing the charts of success.
Opportunities: Connect with fellow music enthusiasts, aspiring artists, and industry aficionados. Forge connections that could be the key to your breakthrough moment.
Exclusive Q&A: Have burning questions? Get them answered in our Q&A sessions with our esteemed speakers.
Insider Insights: Unlock the secrets of effective artist management, talent acquisition, and label dynamics that will set you on the fast track to success.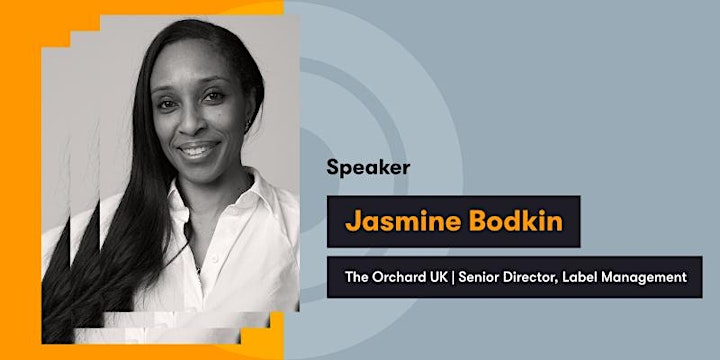 Jasmine Bodkin
The Orchard UK | Senior Director, Label Management
Jasmine has been with The Orchard since 2017, following a diverse career spanning almost 2 decades at Sony Music UK. She began her career as part of the BMG Street Team (pre SonyBMG merger), enlisted initially to help coordinate the team working on Diddy's Bad Boy releases, Usher, Chris Brown & Mario.
During her career she has worked in Promotions, Marketing & Release Planning, working on campaigns with global superstars such as Beyonce, Usher, Alicia Keys, John Legend, Ciara to Robbie Williams, Calvin Harris, One Direction and Little Mix. She spent several years as the Head of Label Coordination/Release planning at Sony UK, overseeing all priority artists' release strategies before starting her role at The Orchard.
She started at the Orchard primarily to help with the integration efforts before moving into Label Management. In her current role of Senior Director of Label Management, she is tasked with co-managing the UK Label Management team as well as overseeing the release planning strategies for artists such as Jorja Smith, Giggs, ENNY & Skepta for UK artist Services and providing label management services to Priority labels with multi platinum selling artist campaigns.
She was an elected member of The Orchard's Council for Equity & Progressive Action (CEPA) for 2 years and a member of the UK Diversity taskforce working on initiatives that educate and promote true equity, inclusion and diversity within the organisation and social impact initiatives for the wider community.
In 2020, she was awarded Alternative Power 100 Music List honouree- Issued by shesaid.so. and has since been invited to speak on panels addressing diversity and her experience as a woman in the industry!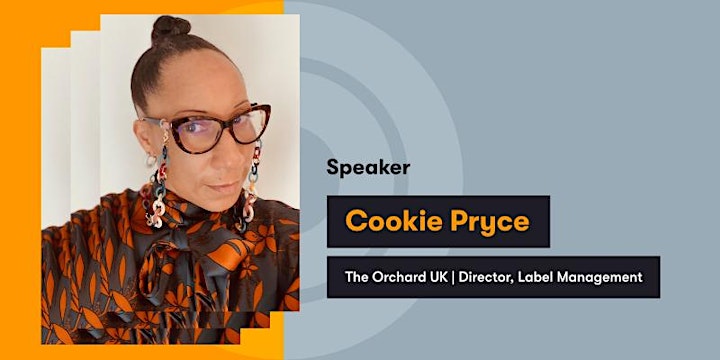 Cookie Pryce
The Orchard UK | Director, Label Management
A former recording artist, one half of the UK's leading Rap group 'The Cookie Crew'. I have worked and recorded with some of the U.S. greats including: Stetasonic, Gangstarr, Black Sheep, Davy DMX, Danny D, Roy Ayers and Edwin Starr. I've also shared the stage with kings of the culture; Public Enemy, De La Soul, Guy and even supported Bobby Brown at Wembley.
I flipped my passion and knowledge to working behind the scenes in the music industry, and have been doing so for many years. My first taste of migrating from an artist to the business side was organising club nights and collaborating with club promoters, events and FMCG. I specialised in raising sponsorship, negotiating brand partnership deals and product placements.
I've had the pleasure of working on promotion and marketing campaigns for some amazing artists including Missy Elliott, Lil Kim, Lupe Fiasco, P. Diddy, Brandy, T.I., Raekwon, RZA, Rakim, KRS One, Fredro Starr, Tech N9ne, Krizz Kaliko, Fat Joe, Bad Boy Entertainment, Notorious B.I.G., Musiq Soulchild, Fabolous, Danity Kane, Twista, Trey Songz, Marques Houston, Mary J Blige, Erykah Badu, Eve, Blackstreet, Black Eyed Peas, Rahsaan Patterson, Mya, Tamar Braxton, Pretty Ricky, Kevin Lyttle, Skye Edwards (from Morcheeba) and The Roots.
I managed to carve out an illustrious career working for various record labels and embraced exploring different areas by becoming an independent consultant for local and international artists and label businesses.
My tenacity is served up with a healthy 30+ years working in the industry and I've witnessed the business evolve. I've worked in Marketing, Promotion, Public Relations and Events. As a consultant I worked for several U.S. companies including Koch Entertainment, SMC Recordings and Strange Music. Other companies that have been blessed to have me on board include: MCA, Universal Music, Timezone International NYC, Propas International Rights Management, RSK Entertainment UK, AEG/The 02 Arena, Atlantic Records and currently a Director Label Manager at The Orchard UK.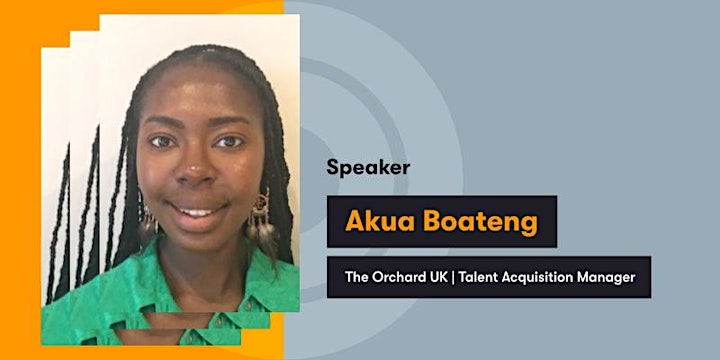 Akua Boateng
The Orchard UK | Talent Acquisition Manager
I joined the Sony Music Talent Acquisition team in July 2022 as a Talent Acquisition Manager for The Orchard, Kollective Neighbouring rights and AWAL.
Prior to joining Sony, I have 7+ years of experience in Recruitment and Talent Acquisition at two FTSE 100 Companies and a Recruitment Consultancy in the City that specialised in Financial Services.
I've grown up around music, playing classical music during my school years (Piano and Clarinet) and writing and performing my own songs. Although, I have a wide and eclectic taste music, as a first generation British Ghanaian I love all things African music, particularly sounds originating from West African i.e. Afrobeat, Afrobeats, Highlife, Hiplife etc
At Sony and The Orchard, I get to meet so many amazing and talented people who work in the business, behind the scenes on artist and label projects. I have recruited a variety roles such as Data Scientists, Label Managers, Business and Legal Affairs Managers, Digital Marketing Managers etc.
It's wonderful to have the opportunity to implement my recruitment knowledge and experience in an industry that I love and have always wanted to be a part of.